My
Alice
costume is complete!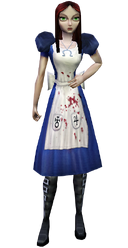 Last week I
posted photos
of my vorpal blade and other bits and pieces. This week I bring you photos of the actual costume.
Now obviously I haven't done my hair and make-up like Alice in these photos. Hopefully on the day I will get some photos of the full effect.
Please excuse the stupid face I'm pulling in the first photo... it is impossible for me to have a photo taken of me looking normal. If I try for normal my eyes seem to weld themselves shut in every photo. So it's either stupid face or miserable as hell! I went for the first option as you can see. And please ignore all the crap in the background.
Mission complete! :)